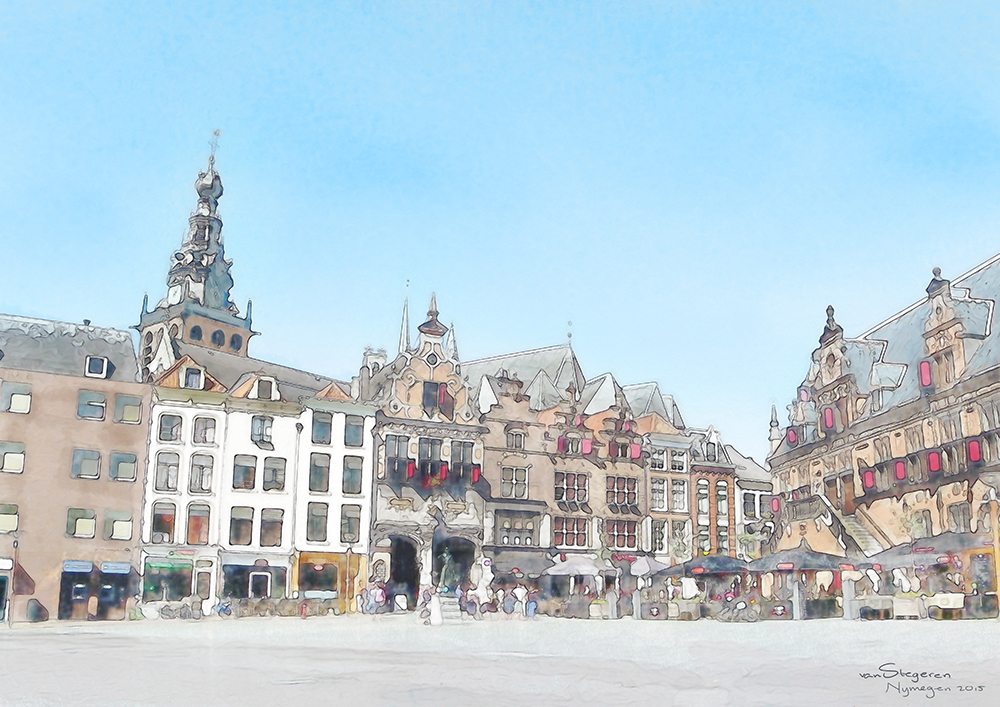 A list of my favorite spots in Nijmegen, where I lived for seven years.
Coffee
Coffeelovers Mariënburg
This coffee bar is situated inside the city library. It has a long table, where you can drink a cup of coffee after perusing books, or you can entertain yourself with people-watching. When I lived in Nijmegen, I went here every saturday afternoon, after visiting the organic farmers market.
Bairro Alto and Downtown
Great spot for a good cappuccino or a chai latte. Bairro Alto has a cute hipster vibe because of the Etsy-sourced interior and dishes. Downtown is a bit more modern, as it caters to flocks of freelancers that bring their Apple computers to work in this clean, white, light-filled coffee bar.
www.bairroalto.nl and Downtown's facebook page
De Blonde Pater
Cute lunchroom and coffee bar right in the best part of the city center. It's always busy between 12am-2pm, because it's one of the best places to sit outside. The cafe is right next to the Lange Hezelstraat, a street filled with small boutiques.
Drinks
Café Samson
Craft beer, waiters with serious beer expertise and lots of free peanuts.
Café Jos
Good craft beer pub, just outside of the city centre.
Brouwerij de Hemel
City brewery situated in the 17th century "Commanderie van Sint Jan" building. Drink local beers, eat some snacks and soak up some sunshine on the big terrace. De Hemel also sells all kinds of products that are made with their own beer and spirits.
Dinner
Blixem
You can get a decent dinner here without going bankrupt.
Popocatepetl
Maybe I am biased, but I just love Mexican food. I particularly like the chicken fajitas. This restaurant is my favorite when I want to take people out to dinner.
Wally
Here you can eat the tasty, slightly haute-cuisine burgers, freshly cut fries and good ginger ale.
De Nieuwe Winkel
One of the best vegetarian restaurants in the Netherlands! Having dinner here was quite an experience. You can also eat non-vegetarian food here. Nice detail: in addition to a wine arrangement, they have a great alcohol-free-drinks arrangement.
Vesters
Stylish dining in a relaxed atmosphere. The menu is fixed and changes with the seasons: small menu, great quality food.
Take-away
Toon's Toon's groente en fruit hoek (Houtstraat 33, Nijmegen)
This Turkish supermarket is located in the Houtstraat, opposite Café Samson. Ask for a "Broodje Alex". You'll get a quarter of Turkish bread, filled with all kinds of tasty salads for € 2.50.
Munt
A salad bar in a side street of the Molenstraat. You pay around a tenner for an epic portion of healthy greens.
WokForGo
Good Daging Smoor for cheap.
Shopping
Het Goed
This is a large secondhand store with a good range of clothing and retro furniture.
De Stikke Hezelstraat and Lange Hezelstraat
This street has a lot of nice boutique shops. It's particularly good for slow food lovers: go to Bakker Arend for fresh bread, Simon Levelt for coffee and tea, De Wit for cheese and butchery Sjek Floor for organic meat and charcuterie.
Klerengoed
This secondhand store is just outside the city center. The store has quite a chaotic vibe because of the mess, but do not underestimate what you can find here. They specialize in alternative women's clothing and also have a lot of second hand vinyl.
De Vinotheek
Tasty wines for every budget and a chat with the knowledgeable storekeeper Maarten.
Van Nature
Store with all sorts of green, organic and otherwise environment-friendly products, often directly from the producer. A good place to get presents, for yourself or for someone else.
De Waaghals
The record store of Nijmegen. Enter at your own peril. Whenever I go there, I tend to leave with a bag full of secondhand vinyl. They also have a very nice collection of second-hand vinyl in the basement.